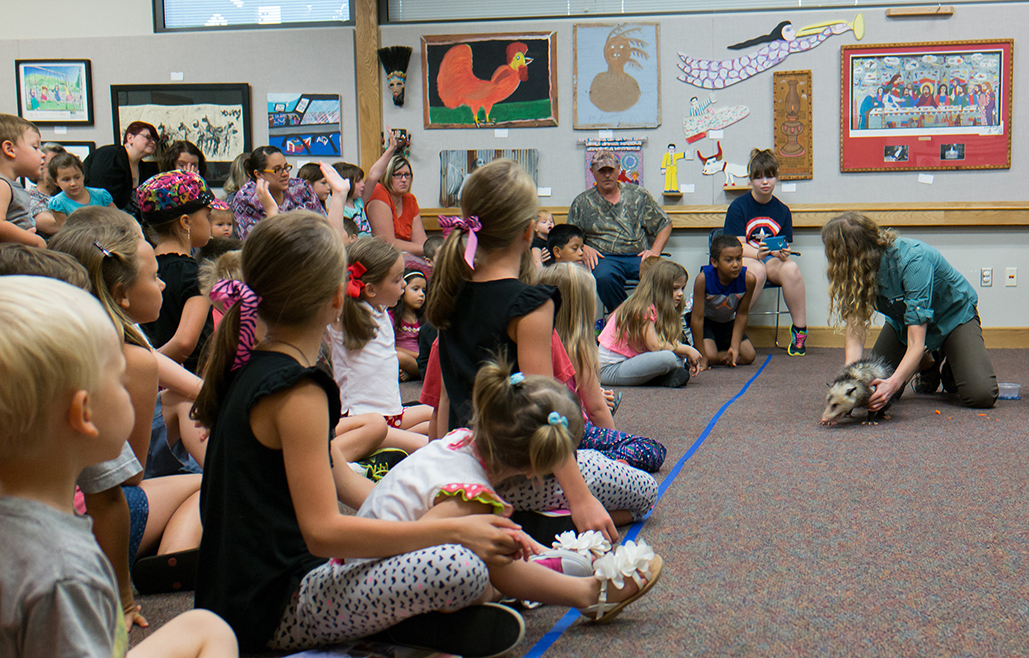 Program scheduling is currently on hold while we transition to our new AmeriCorp Outreach Coordinator. Please check back with us in mid-late September.
Balsam Mountain Trust OUTREACH presentations generally include 3-5 animal encounters and last around 1 hour. Please note: animal encounters will be based on animal availability on that date. We reserve the right to change animals attending a program (if agreed upon) at any point prior to the event in the best interests of our animals should something arise. 
There is a 20% discount available for each additional program that is booked when booking 2 or more  programs in the same request form. Mileage Fee: Standard IRS mileage rate of $0.56/mi will be charged for travel in excess of 25 miles one-way from the Balsam Mountain Trust Nature Center.
Animal Nursery Rhymes
Grades: Pre-K – 1
K.L.1, K.P.2, K.L.1
Students sing along to nursery rhymes about our animals (turtle, snake, opossum, and bird), then get to meet and learn more about them. Songs, movement, finger-play, and rhymes are guaranteed to engage and entertain your little ones. Not available for Assembly programs.
Amazing Adaptations
Grades: K-5; others by arrangement
1.L.1, 1.L.2, 2.L.1, 4.L.1, 5.L.1
Learn about the different adaptations of animals by meeting some real-life examples! During this interactive lesson, we will explore Amphibians, Fish, Reptiles, Birds and Mammals. This program can be tailored to different ages to cover NC standard topics such as body coverings, structural anatomy, biodiversity, adaptations and evolution, and human/environment interactions.
Web of Life
Grades: 3-6; others by arrangement
4.P.3, 4.L.1, 4.L.2, 5.L.2, 6.L.2
How does energy move through an ecosystem? How are living things connected? We'll answer these questions and more with some help from our live ambassador animals! This program can be tailored to different ages to cover NC standard topics. Not available for Assembly programs. 
Don't see a program that fits your needs? Have questions about programming before requesting a program? 
Educators/Coordinators are invited to work with the Trust Education Department to curate a program that will fit the desired program need. Fill out the contact form to discuss programming with Brit Blackford, Education Director. 
Ready to schedule a program with us?
Classroom
35 Students or Less
Choose from one of the programs above

Up to 1 Hr Program

Upclose ambassador interactions
Assembly
150 Students or Less
Choose from one of the programs above

Up to 1 Hr Program

Animals in-person

Upclose interactions w/ animals due to amount of participants
Library/Non-profit
Event Space Limit
Choose from one of the programs above

Up to 1 hr of programming

Animals in-person

Birds of Prey– $50 additional cost
Community Group
Event Space Limit
Choose from one of the programs above

Up to 1 hour of programming

Animals in-person

Birds of Prey– $50 additional cost
Festivals and Tabled Events
Balsam Mountain Trust can also come to your festival or tabled event! Fill out the program request form to secure your event date! If you have any questions about festivals, feel free to email Brit Blackford, Education Director, at education@bmtrust.org