Discovery Boxes are currently available to all 1st/2nd grade teachers in public schools around the WNC region. The Trust Staff recognized the need for quality, accessible conservation-based programming in the local school systems and partnered with the Jackson and Haywood county school boards to design curricula that addressed state science standards. Cultivating an understanding and appreciation of the natural world and our connection to it is vital for a healthy environment and society.  The activities in the kit are hands-on and designed to encourage outdoor exploration and learning. They also provide young children with exposure to STEAM fields at an age-appropriate level, incorporating math, language arts, social studies, and art into the realm of science. We hope that through the implementation of these activities, the students will not only learn about the basics of pollination but also increase their appreciation and curiosity for the natural world. We challenge and encourage teachers to conduct as many of the kit activities in the outdoors as possible.  
Current Discovery Box Offerings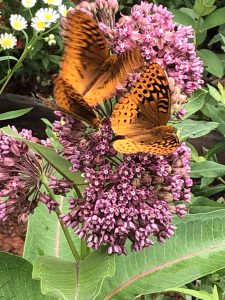 Pollinators
This Discovery Box addresses three concepts: the basics of plants, the process and importance of pollination, and human impacts on pollinators. Each concept has corresponding background information and is correlated to the NC State Standards. With pollinators in peril, this could not be a better time to address this topic with young learners. The Discovery Box includes activity lessons and the supplies needed to complete the activities.