Are you looking to offer programming to work towards the ecoEXPLORE program? Balsam Mountain Trust and our AmeriCorps program are offering programming that can help you earn badges from the ecoEXPLORE citizen science program through the North Carolina Arboretum. If you are a public library/school or a Title 1 program, you can be provided programming at no charge for the listed programs below.
Program scheduling is currently on hold while we transition to our new AmeriCorp Outreach Coordinator. Please check back with us in mid-late September.
Amazing Avians
Field Season:
January, February
Flock to your local library and join us in learning about our feathered friends; the birds! In this program we will learn about unique adaptations of birds, how important they are to an ecosystem, and meet a few birds of prey.
Backyard Botany
Field Season:
March, April
Plants are the base energy source for almost all animal life on Earth, but how much do you know about our green friends? Join us in learning about the complex lives of plants in our botany lesson with our AmeriCorps member.
Slithering Scales
Field Season:
May, June
Slither and hop to your local library to learn about the reptile and amphibians we share our world with. Discover what makes them unique with our AmeriCorps member.
Fantastic Fungi
Field Season:
Late September, October
Sneak a peek at the fantastical world of mycology with our AmeriCorps member. Learn about the thousands of species of fungus and go on a mushroom hunt if weather allows as well as examine real specimens up close! This program will be held during peak mushroom season in the Blue Ridge Mountains. 
Mammal Madness
Field Season:
November, December
Join us in learning about the magnificent world of mammals! Using real biofacts, print casts, and a live animal we will discuss the unique adaptations of mammals as well as identify various species with a guessing game that's fun for all ages.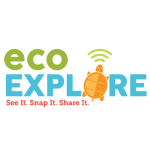 What is ecoEXPLORE?
"ecoEXPLORE (Experiences Promoting Learning Outdoors for Research and Education) is an incentive-based citizen science program for children in grades K-8. Developed by The North Carolina Arboretum, this innovative program combines science exploration with kid-friendly technology to foster a fun learning environment for children while encouraging them to explore the outdoors and participate in citizen science." (Source: The NC Arboretum)