Staff
Protecting Our Little Corner of the Southern Blue Ridge
Employees of the Trust bring a broad, deep and complementary set of skill to the work they perform. This provides an eclectic experience for visitors to the Nature Center and to audiences engaged off the preserve.
Michael Skinner,
Executive Director
Michael is the executive director of the Balsam Mountain Trust, the nonprofit environmental education and research arm of Balsam Mountain Preserve. He is responsible for directing natural and cultural resource management, environmental education programming, and scientific research on the Preserve. Before coming to Balsam Mountain Preserve, Michael was the Emmy nominated host of "Georgia Outdoors" on Georgia Public Television. He is an experienced field ecologist, naturalist, nature photographer, environmental educator, taxidermist, and musician. His career track includes experience working in zoos (Lincoln Park, Central Texas Zoo and Zoo Atlanta); nature centers (Chattahoochee in Atlanta); and museums (Fernbank in Atlanta and Strecker at Baylor University, where he was also an adjunct instructor in the biology program). These positions have allowed him to travel extensively in the U.S. and abroad. Michael holds a B.A. degree in Wildlife Management from Southern Illinois University.
Rose Wall,
Education Director/Senior Naturalist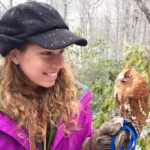 Rose Wall is a Senior Naturalist for the Balsam Mountain Trust. She is responsible for providing environmental education programming and assisting with the natural and cultural resource management of Balsam Mountain Preserve, a job she shares with Jen Knight. Rose has a passion for connecting people to nature, and for empowering them to protect their local and global natural environments. Before coming to Balsam Mountain Preserve, Rose worked as an Environmental Education and Volunteer Coordinator at  Audubon Zoo in New Orleans. She has also served as a wetland educator for under-served youth in Southern Louisiana, and a Biology Instructor for the University of New Orleans. In addition to her work in environmental education, Rose has  had the opportunity to spend a lot of time in the field, working with the critically endangered Mississippi Sandhill Crane for her graduate research, and with threatened beach nesting birds as a field biologist for NJ Fish and Wildlife. She was also accepted as a "Research Experience for Undergraduates" Fellow in Costa Rica, and published her research in the journal, Forest Ecology and Management. Rose holds a B.S. in Ecology and Evolution from the University of North Carolina at Asheville and an M.S. in Conservation Biology from the University of New Orleans.
Jen Knight,
Education Director/Senior Naturalist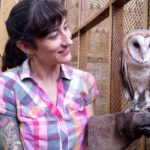 Jen Knight joined the Trust staff in November 2015 to fill in for Senior Naturalist Rose Wall during her maternity leave and never left! They instituted a jobshare partnership and now split the position. Jen hails from Tampa, FL but grew up visiting her grandparents in the nearby Glenville Community. She graduated from the University of Florida with a B.S. in Wildlife Ecology and Conservation. She began her college career with a research focus and did field work in avian ecology, black bear management, bluebird recovery, and termite monitoring. She decided her education and exhibit design work at the Florida Museum of Natural History was more rewarding and switched to an education minor. Since then, the bulk of her naturalist career has been centered in Minneapolis, MN. Jen worked at four nature centers in the Twin Cities where she continued to hone her skills in program development and exhibit design and developed a keen interest in animal care. She also gained a healthy appreciation for snowshoeing. Jen is ecstatic to be back in the mountains and is eager to contribute her energy to the Trust's mission of conservation, education, and advocacy.
Emily Taylor,
AmeriCorps Service Member

Emily graduated from The University of Iowa in 2019 with a BS in Evolutionary Biology and a BA in Environmental Sciences. She grew up in the suburbs but relished any opportunity to explore the wilds around her. She developed a passion for wildlife at a young age but turned it into a career during college when she volunteered -and eventually interned with- the local raptor center in Solon, Iowa. She has since combined her love for education and animal husbandry by working and volunteering at several zoos and nature centers, notably a great green macaw rescue and breeding center in Guanacaste, Costa Rica.  Before starting her AmeriCorps service, she was lead camp counselor at Austin Zoo in Texas for two seasons.
Emily is serving with AmeriCorps, an eleven-month national service program with positions offered by community and non-profit organizations. CTNC manages an AmeriCorps program that has placed 18 members with conservation and environmental groups throughout North Carolina. The program's goals are to connect thousands of people to the outdoors and to develop future leaders in conservation. Learn more about CTNC's AmeriCorps program here.