THE TEAM
Protecting Our Little Corner of the Southern Blue Ridge
Employees of the Trust bring a broad, deep, and complementary set of skills to the work they perform. This provides an eclectic experience for visitors to the Nature Center and to audiences engaged off the preserve.
Michael Wall, Ph.D.,
Executive Director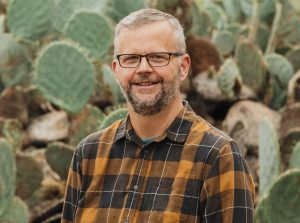 Dr. Wall, a distinguished leader in his field of environmental conservation and education, has been at the San Diego (CA) Natural History Museum for more than 16 years and is currently Vice President of Science and Conservation. He joins the Trust as an accomplished executive leader, scientist, educator, committed conservationist, environmental steward, effective fundraiser, collaborator, and creative thinker. Describing his work ethic, Wall said, "My first and unending love is teaching about the wonders of nature. Even in my career as a scientist, I've always leaned more into science communication than research…to not just tell people about nature, but to give them gateways to experience it. In short, my mission is to deepen community involvement in the science and practice of conservation."
Rachael Hart, Operations Coordinator/Naturalist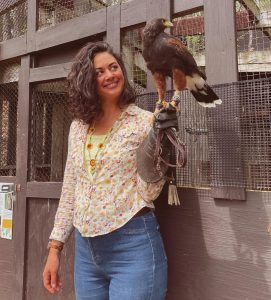 Rachael is the operations coordinator and naturalist for the Trust. She graduated from Haywood Community College with a degree in Wildlife Management and certification in Forest Management Technology. She grew up with an immense passion for animals and the outdoors and was always barefoot and outside in the dirt, which holds true today. Haywood gave Rachael a comprehensive and hands-on education by providing ample opportunities to work with the North Carolina Wildlife Resources Commission and other organizations of the like. She also spent two years at Cape Fear Raptor Center where she volunteered her time rehabilitating and releasing birds of prey, as well as working with a local wildlife rehabber.  Rachael continues to love anything wildlife-related and enjoys being hands-on to help our environment in any way she can.
Emily Taylor,
AmeriCorps Service Member/External Outreach Coordinator

Emily graduated from The University of Iowa in 2019 with a BS in Evolutionary Biology and a BA in Environmental Sciences. She grew up in the suburbs but relished any opportunity to explore the wilds around her. She developed a passion for wildlife at a young age but turned it into a career during college when she volunteered -and eventually interned with- the local raptor center in Solon, Iowa. She has since combined her love for education and animal husbandry by working and volunteering at several zoos and nature centers, notably a great green macaw rescue and breeding center in Guanacaste, Costa Rica. Before starting her AmeriCorps service, she was lead camp counselor at Austin Zoo in Texas for two seasons.
Emily is serving with AmeriCorps, an eleven-month national service program with positions offered by community and non-profit organizations. CTNC manages an AmeriCorps program that has placed 18 members with conservation and environmental groups throughout North Carolina. The program's goals are to connect thousands of people to the outdoors and to develop future leaders in conservation. Learn more about CTNC's AmeriCorps program here.